Ajay Jani mentioned on Twitter it may be worthwhile to revisit Facebook's move back in 2013 and compare with stocks over the past couple of weeks that have had similar gains in price and volume. The goal is to gain insight into how Facebook progressed after its big move up. Maybe this will foretell how stocks with similar price and volume signatures may play out in the coming weeks.
To begin, we'll look at two charts of Facebook, paying attention to the price, volume and its upward trend. We'll follow this with a look at three stocks, AAXN, CHGG and TWLO.
Facebook (FB) in July of 2013
Below is the weekly chart of Facebook for the week of 7/26/2013. On the left notice the 31% increase in price and a 192% increase in volume.
The chart on the right shows the price progress over the next 3 months. The gain over that time period was over 50%!
Let's have a look at three stocks that all have siginificant price and volume gains, all within the past week.
Twilio (TWLO)
Twilio is a provider of cloud-based communication services. Of the three stocks that follow, Twilio had the largest price gain this week, a whopping 66.41% on a volume increase of 270%.
Notice in the lower right the yellow "ballon" icon just above the volume. This marker indicates that that volume on that day was the highest volume in the base – exactly what we are looking for on a breakout.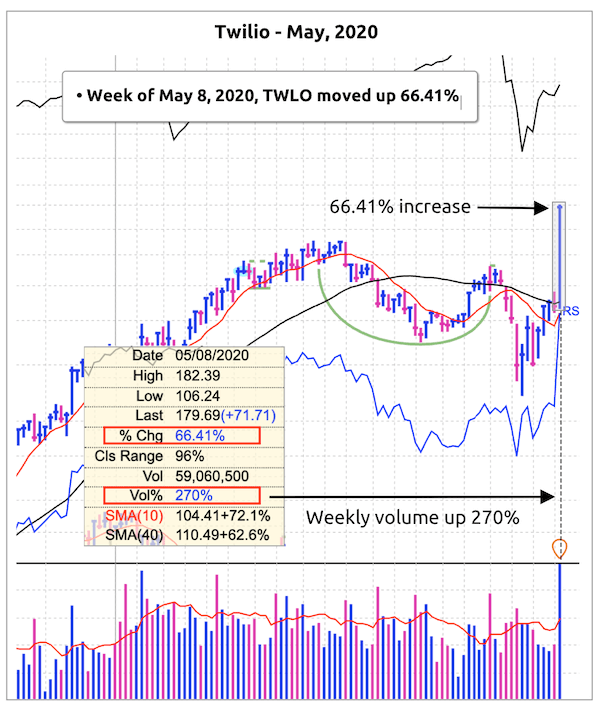 Chegg (CHGG)
Chegg, an online education provider, moved up 49% this week, with volume up 570%. As with Twilio, notice the yellow icon indicating the highest volume in the base.
Axon Enterprises (AAXN)
Axon specializes in electronic devices for law enforcement and related industries. Axon Enterprises (formerly TASER) was up nearly 24% in price with volume coming in 54% above average.
As with both stocks above, the volume on the day of the large move up was the highest volume in the base (yellow icon).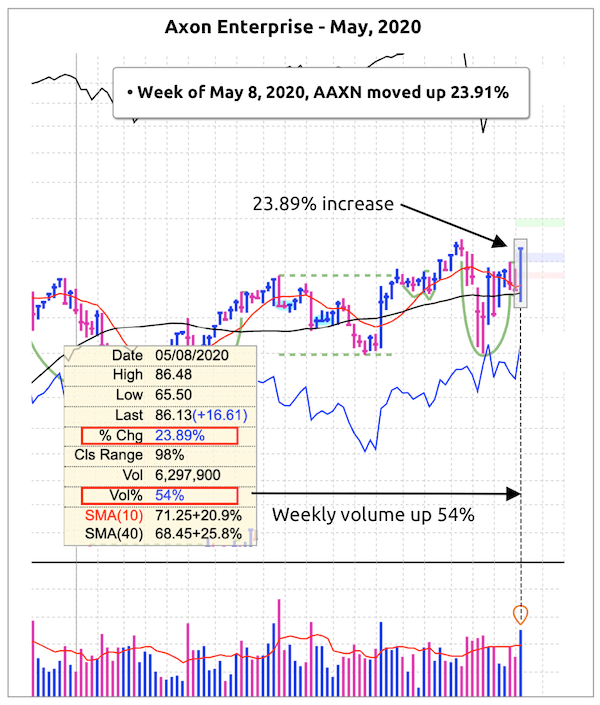 Daily Stats
All the charts shown above are weekly. It's interesting to look at the daily charts to compare the price and volume information on the day each stock made its big move.
The highest increase in price was TWLO, with a 39% increase. On the volume side, CHGG wins at 1240%!
Summary
Facebook was clearly a big mover back in 2013 – it all began with a huge move up in price, supported by strong volume. This past week CHGG, TWLO and AAXN all had significant gains in price and volume, with chart patterns that look similar to the initial Facebook breakout.
There are many other good examples to inspect closer, to get started, checkout PayPal (PYPL), Mercadolibre (MELI), Peloton (PTON) and Fastly (FSLY).
---
Follow the discussion on Twitter:
There have been some impressive breakouts recently. I ran with @SAC66's suggestion to compare Facebook's big move in 2013 to stocks making moves over past few weeks. Included are charts from $AAXN, $CHGG & $TWLO.https://t.co/rS7v42vqC9@mwebster1971 @IBDinvestors @MarketSmith

— John Muchow (@JohnMuchow) May 10, 2020